Importance of the quality of the Power Source
PC-and-server-manufacturers spent most of 2017 complaining about profit erosion due to shortages of key components. Now comes news from Taiwan about further disruption to the supply chain, this time for NAND Flash, thanks to a blackout occurred at a Samsung plant. The blackout was apparently 30 minutes long, but that was enough to leave 11 per cent of the plant's monthly output in ruins. 
Today more than ever the quality of power source is a problem. Voltage interruptions and various electrical disturbances are a daily issue and can create considerable problems, either to the powered equipment or to the time lost due to interruptions, with additional risk of data losses. To minimize that, Elsist designs reliable and efficient devices with solutions that guarantee the "Business Continuity", which is the guarantee that systems and equipment will continue to be powered and to operate correctly even in presence of critical events.
Elsist is also focused on energy saving, selling high efficiency products. An environmentally-friendly approach is one of our main goals since design stage, in order to sustain a clean energy development.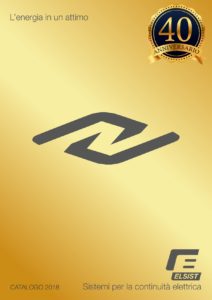 Success story: Elsist supplies its UPS to a greek chain of shops
In collaboration with its Greek distributor "Veral", Elsist has delivered its 3kVA Flexible UPSs to an Athenian retails chain. They are part of a first supply, which will be followed by other systems, to accomplish a renewal and completion of IT infrastructure of the stores. "Our products have been chosen thanks to their good price / performance ratio – says Bruno Montrasio, Export manager – demonstrating the competitiveness and reliability of our equipment".
Success story: Elsist selected by Telecom Italia
Elsist has been selected to supply its UPS in some Telecom Italia sites in the city of Rome. Telecom Italia is the main ICT group in the country, and Elsist will supply three-phase UPS of Polaris series at 10kVA, 15kVA and 20kVA for sites protection. "We are happy to contribute with our products to the protection of the infrastructure of this strategic industrial group – says Silvano Valeri, Italy Sales Manager, Industry sector – the fact that we have been selected because our products meet the requirements for critical applications, both in terms of reliability and in economic terms, it is a source of great satisfaction for us. "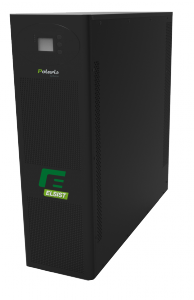 New PURE series from 1kVA to 3kVA
Naicon is pleased to introduce its new Pure series of line interactive UPS with TRUE SINUSOIDAL waveform., available at 1kVA, 2kVA, 3kVa power levels. All models are equipped with LCD display for an easy visibility of their operating status. USB port and RS232 connection for remote control are available as standard. The software with shoutdown capability and parameters monitoring is also included in the package. The software is compatible with all most common operating systems. Single-phase, Line interactive UPS with sinusoidal waveform for a high quality protection of your critical load.