Naicon Group at Elettrica 2018
NAICON GROUP exhibits its products Diloc for air conditioning and Elsist for electrical continuity at ELETTRICA 2018, from 12 to 15 April in Novara, ITA.
Naicon is located at booth # 190.
ELETTRICA is an event that takes place every two years, organized by Comoli Ferrari, the largest Italian distributor of electrical equipment.
Approximately 200 manufacturers of advanced equipment and solutions, thousands of designers, installers and companies will meet at the event in Novara. It is an interesting opportunity not only to watch at new products and applications but also for a deepening of the regulatory implications that the numerous innovations to increase comfort, safety, energy saving, and sustainability in general, bring into the daily life of professionals and users.
In fact, conferences and workshops are also scheduled at the fair.
At Elettrica 2018, engineering becomes the driving force behind a virtuous path for digitizing the Country, which will allow Italy to take full advantage of the new industrial revolution to radically change its economic framework and compete with European and global industrial powers. And in this challenge Naicon, with its expertise and cutting-edge products, is your ideal partner..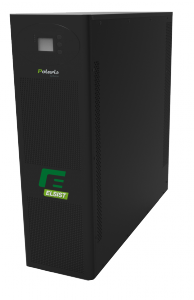 Success story: Elsist supplies its UPS to Algosystems Greece
In collaboration with its own Greek distributor Veral, Elsist will supply its own Polaris UPS at 10kVA to Greek company Algosystems, for the expansion of its data center. Algosystems S.A. is an Athenian Group that provides high-tech products and solutions for the operational and organizational needs of modern companies, organizations and industries. "The choice fell on our products thanks to the good value for money and the fact that together with our local partner, who has been providing its services for a long time to the customer, we have identified the optimal solution for the specific application – says Bruno Montrasio , Export manager – demonstrating our ability to support the customer in all phases of the project".
Elsist is extending its presence in foreign market
In addition to the steady growth of sales in Italy, Elsist is expanding its sales network and presence in foreign countries, through agreements with local and international partners, both Distributors and sales Agents.
Some European and Middle-East areas are already actively covered: Germany, Slovenia, Croatia, Albania, Serbia, Greece, Romania, Kosovo, Egypt; while for others it is now close to the agreement: Baltic countries, Ukraine, Kazakhstan, Georgia, Uzbekistan.
Others are still being defined (Spain, UK).
"Our ambitious goal – says Elvis Clusaz, Chief Operating Officer – is to become a significant player in these countries for UPS market, just as we are already in Italy".
New Sirius series from 1kVA to 3kVA
Naicon is pleased to present its new UPS series called SIRIUS, a special product with power from 1kVA to 3kVA.
This UPS can be configured in a rack or tower version, and is based on double conversion on-line topology with DSP (Digital Signal Processor) technology and works with an input / output voltage of 110Vac.
In addition to compliance with the usual standards, the product also has the UL mark.
The models are equipped as standard with RS232 communication ports and an RJ45 port. Also available is an Intelligent SNMP card insertion slot (optional) and an EPO contact.
The input and output terminals are easily accessible for simple configuration in all industrial environments.
The Sirius series is ideal for protecting critical loads that require continuous power supply, with zero transfer time..